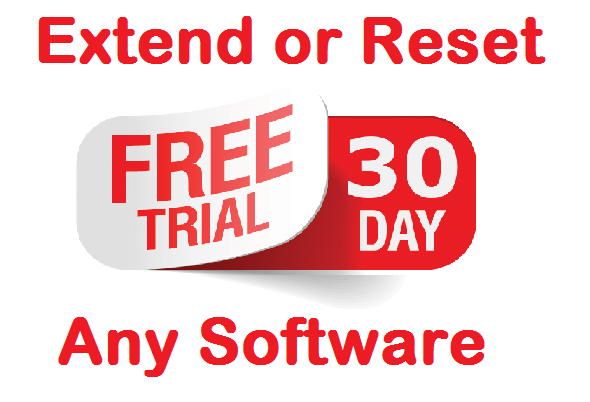 Extend Trial Periods on Software: Software's are most essential part for any computer. Without any software PC is just useless. Normally two different restriction of software are available, one is free for life time and another is not free, hare you must require to buy license key. Here in this tutorial we are only discourse about chip code for the second type of software. The software like IDM (Internet Download Manager), Antivirus are very common but much essential of daily uses. However that software are came with free trial version of 30 or 14 days, after 30 days you'll get irritating notice to bye license for extend your trial period. Many people asked why that software is offers 30 days free trial. It's marketing strategy to addict you on their product. Now the question is how to use that software for long team. Either you can buy or you can read our tutorial. The second option well deserves for you if you don't have enough money but still wants to use those paid software. Here in this article we're briefly elaborates to extend or reset trial period of any software with popper direction.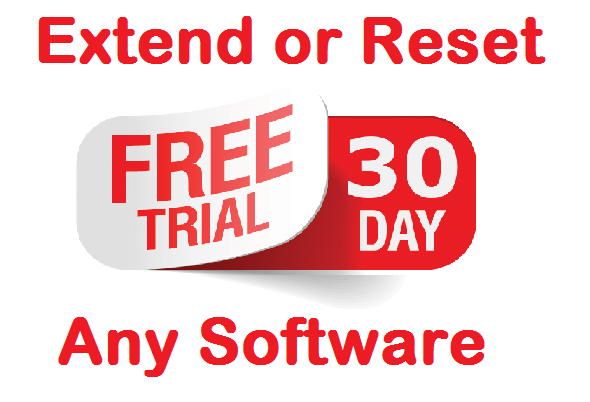 Several Methods To Extend | Reset Trial Period of Any Software
NO! Here we don't promises to give you any license key or patch or crack version of any software. In this tutorial is come with the several working tricks for Reset Trial Period of Any Software. There are three types of promises we are describe bellow. The main motive of all the three methods is reset or deletes the saved registry of software. Here the methods are…
Reset Trial Period of Any Software By Reset Time
Reset Trial Period of Any Software By Manually Delete Registry of Any Software
Reset Trial Period of Any Software By Absolute Uninstaller
Method 1: Reset Trial Period of Any Software By Reset Time
Hare this method we'll use to edit the registry date of the software. There are many software (RunAsDate, Time Stopper, Trial-Reset 4.0) are can do so. However this method will be no more working after finished trial period.
RunAsDate Free Software
RunAsDate is free software available and give you better promises to edit the registry date of any software. Most of the people preferred to use this software than other. Here the guideline how to Reset Trial Period of Any Software By RunAsDate.

At first download RunAsDate Free Software for Windows 10. 8.1, 8 and 7 PC
now extract RunAsDate zip file and save on your PC
now open the RunAsDate software
click on "Brows" option > select the software
now fill the time and exact date when you first download this software
enter any name for Create Desktop icon
look down and click the option "Create Desktop Shortcut"
Now complete.
Time Stopper
Time Stopper is another useful application for Reset Trial Period of Any Software. Time Stopper is same alternate of RunAsDate. The function and interface is very similar.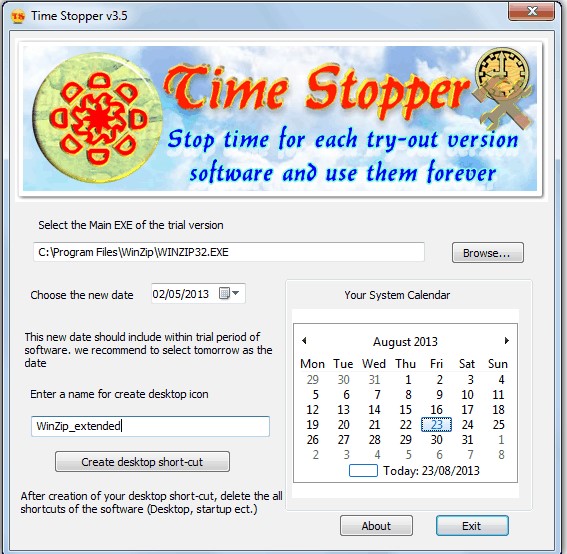 Download Time Stopper file for Windows
Now extract as Zip file and save the file
Open Time Stopper
Select the software from the browse option > fill date and time > enter file name > click on "Create Desktop Shortcut"
Now reinstall the software for further use
Method 2: Extend Trial Period of Software by Delete Registry
However you install any software in your system, all the data is recorded in the windows registry. That is why you must edit or delete the software registry from your computer to Reset Trial Period of that Software. Here in this method we will know step by step process to manually delete software registry.
Must Read Brawl Stars APK
Method 3: Reset Trial Period of Any Software By Absolute Uninstaller
Normally if you think that reinstall is the solution, then you might fool because the software already registers its key on your PC registry.  If the earlier step is difficult you you then you can delete software registry by third party software called Absolute Uninstaller. Here the steps..
Download the Absolute Uninstaller setup file and install it on your PC
Now open select the software and click "Uninstall This Program"
That's all, All the software registry now deleted
Now restart you device and reinstall the software
Final Lines
Those are most useful and working ways to extend and reset of 30 or 14 days trial period of any software. Those hacks are free and very simple to operate.  Now day software crack versions are available but which may causes several damage on your PC like virus affected or crash HHD/ SSD files. So it's better to try among the above process. Know us if you can't improvisation those steps on filed.
---