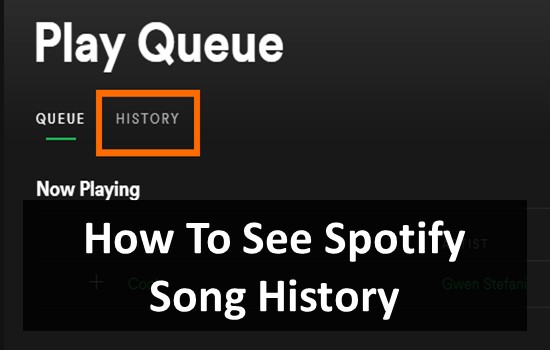 Listening to songs is fun and most of the people out there love to do that. Before some time, people used to download and store songs to listen to them offline because online music streaming was not in fashion. These days you can find a countless number of such services that let you listen to music online without downloading. In this digital era, when everyone is using the internet people are moving to music streaming services instead of offline streaming. It helps everyone to keep the space clean for other files and another advantage is that you can listen to almost all types of songs without searching for it. The data consumed by such services is very little so it won't affect your data usage in any way.
Apart from all, Spotify is one of the most popular and widely used music streaming services around the world. Right now it is being used by more than 200 million people around the world. If you haven't used it yet, then you are missing out something really interesting. Spotify curates the entire web for songs and then list them in a very high-quality on their servers. Many media companies and individual artists have collaborated with Spotify so you can find their original creations only on Spotify. Then best thing about Spotify is that it is available as a website, desktop app and even for mobile devices as well. You can also use Spotify to download songs and listen to them offline if you want.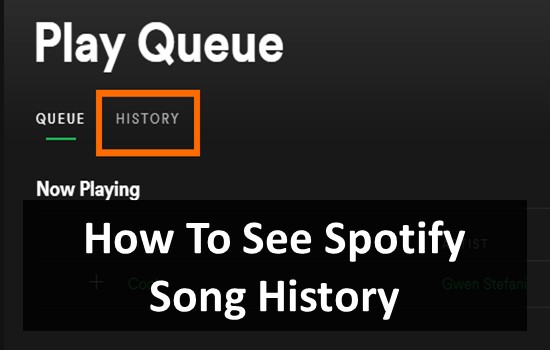 Here in this post, we are going to tell you about how to see Spotify song history to listen to songs that you have played previously with it. By default, there is no option available to do that and you will have to play around with some options to get it. Remember that it is not impossible to get Spotify history as it is hidden somewhere inside it. It doesn't matter if you are using Spotify on mobile, desktop or on the web because there are multiple options available out there to view Spotify song history on each of them. There come many times when you want to listen to a song again that you have played previously and if you have not saved the song in any playlist or in your account then you can follow these methods.
How To View Play Queue and History [3 Methods]
See Spotify Song History On Spotify Desktop App
If you are using Spotify on the desktop like Windows or MAC, then you can easily view the song history on it. By default, the option is not visible in the menu bar or in the sidebar, but it can be found in the Queue section. Well, if you are using the official and the latest version of the Spotify app for PC, then you will be able to find this option by following the steps mentioned below. You will have to sign-in with your account in the app first and when you have done it, start following the steps mentioned below.
Open the Spotify app and go to Home Screen.
Now click on the Queue Button on the bottom-right corner.
This will take you to a new Queue page.
Right beside the Queue option, you will find the History button.
Just click on that button and the Spotify song history will be displayed to you.
From there you can either play the songs or add them to a playlist.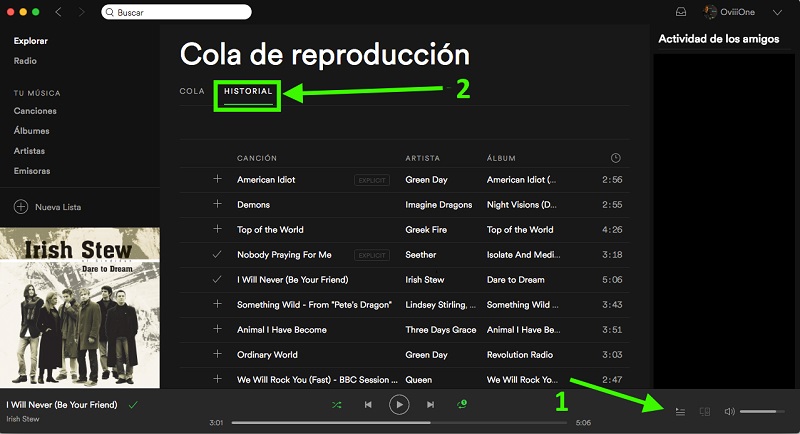 How To See Spotify Song History On Mobile Apps
A majority of the Spotify users are using this streaming service on their mobile devices. There are many good features available in this app that makes it better than other similar music streaming services available out there. If you are using a mobile device and want to know how to find out Spotify song history then we have mentioned below steps for you. It doesn't matter if you are using an Android or iOS device because this method works the same on both of them. You don't have to download or use any third-party app to do it as everything is available right inside the official Spotify app.
First of all, open the Spotify app.
Navigate to Your Library panel.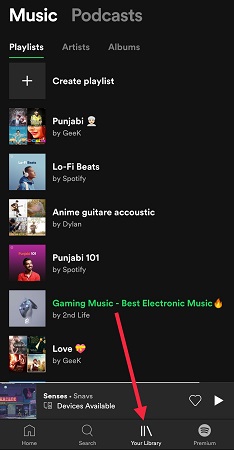 Click on any Playlist from the list (It must be a playlist created by you).
Now click on the 3-Dots from the top-right corner.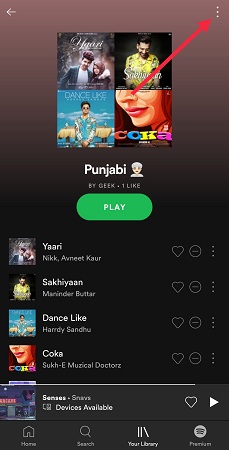 Some options will appear, click on Add Songs.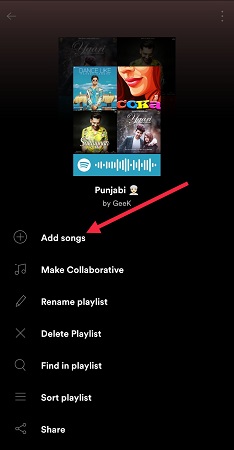 Now you will be taken to a new page.
Simply Swipe-Right a couple of times until you see Recently Played.
This list will have all of the songs that you have played recently on your Spotify account.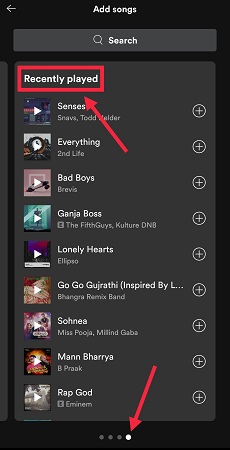 Find Recently Played Spotify Songs On Spotify Web
Well, a lot of Spotify users are using this amazing music streaming service on the web version. If you were not aware of it, then let us tell you that Spotify also offers its services as a web player, so you can just open their music player website to listen to songs on Spotify without downloading its app on your desktop and mobile devices. The official website of the web player is open.spotify.com. You can also sign-in on it with your account to sync your playlists and search history.
Unfortunately, you won't be able to use the web player to view your Spotify song history. This is just another reason why you should start using the Spotify app on your PC or mobile devices. A lot of people have given this idea to include Spotify song history on the web player, but we never know when Spotify will take some action on it and make it a reality.
Apart from the search history on Spotify, you can use a recap of the whole year on it. Every year Spotify makes a recap of your Spotify usage and gives you detailed statistics about the songs played the most. You can use this data to find out the songs that you have played in the whole year. You can easily access this data by visiting this page:
https://open.spotify.com/genre/2019-page
TIP: You can change the "YEAR" from the URL to something else to find out statistics of some other year as well. For example, instead of 2019, if you want to see the details of the 2018 year, then you can simply change the URL from https://open.spotify.com/genre/2019-page to https://open.spotify.com/genre/2018-page.
Final Words
So this is all about how to find song history on Spotify and we hope you are able to do it on your own now. There might be many ways to find Spotify song history but according to us methods mentioned above works best among all. It is not yet possible to find played history on Spotify officially, so you will have to follow these steps to find it out yourself. If you know about some more easy ways by which a person can find the Spotify song history, then let us know about it too so we can add that method to this post. If you are facing any issues in following any of the methods mentioned above, then you can ask us for help via the comments below.
---