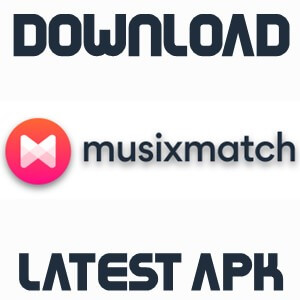 MusixMatch APK: Music can heal almost any wound. Whether you have had a bad day or are simply looking for a respite, a song can do the trick. We all need some amount of music in our lives, and mobile app technology has brought it even closer to us than it was before. However, if you want to sing along to your favorite song or want to prepare for a singing competition, it's hard to understand the lyrics sometimes. Lyrics apps are developed and designed to provide users with accurate lyrics so that they can enjoy listening to their favorite songs while singing along. Musixmatch is the world's largest lyrics catalog application. It displays synchronized song lyrics with multilingual translations in a clean interface.
The MusixMatch APK shows you lyrics for the currently playing song, displaying them in a beautiful floating interface on top of the album artwork and integrating with major Android music players. These include Google Play Music, Spotify, and SoundCloud. MusixMatch may not get all lyrics right, but it integrates so well into the Android interface and is so easy to use that it stands out from the horde of lyrics apps available on Google Play. Additional features like MusicID, FLAC support, and the equalizer make it hard to resist. The app's song identification feature, MusicID, can pick up most songs with vocals, whether they are sung on TV, Radio, or live by a person, but does a poor job at identifying instrumental songs or classical music. However, if you listen to music on your mobile device, this app is definitely a must-have.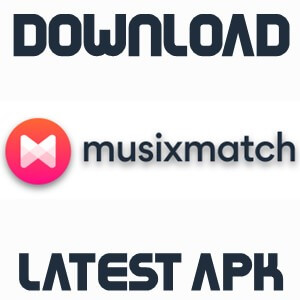 With over 6 million songs in its database, Musixmatch has the most songs you are likely to want. Older and more dated songs may not be there, but for the most part, you'll get results for whatever you're listening to. Some lyrics are simply a block of text, but many newer and more popular songs are given to you Karaoke-style, in time with the music. You can add to and edit lyrics too if you see a mistake of any sort in the text. There's an option to 'remove the singing', turn on your microphone, and sing along too. However, the processing to remove vocals from a track is far from perfect and is still a work in progress. Musixmatch also features the ability to create images with quotes from the song's lyrics and terms it as Postcards. Also, there is a Charts feature that basically shows you the trending music from all around the world.
Read VideoBuddy APK
MusixMatch App For Android Features
Doing Away With Ads – While Musixmatch scores high in all aspects, one thing that spoils the user experience is the way ads have been implemented in the app. Annoying ads popping up every few intervals and disrupting the music really spoils the whole experience of using the app. The ads can be quite intrusive, appearing over every song you play and are far too easy to accidentally tap, sending you out to the app store or elsewhere. While you can get rid of the ads by getting a premium membership, the APK offers you an ad-free experience, without having to shell out the big bucks.
Built-In Equaliser – An equalizer can be a great tool to make any music sound better. Having individual sliders to increase or decrease the lows, mids, and highs of your audio can even help make a set of poor-quality headphones sound better. If your music player has a built-in equalizer like the Musixmatch APK, you should set your phone's own equalizer to be completely flat, which means that you are supposed to put every slider right in the middle. Then, use the EQ in your music player to adjust things to your liking. A little bit of tweaking can make a huge difference to the audio quality and overall experience.
Lyrics Available Offline – Displaying lyrics offline is a premium feature. But, with the Musixmatch APK, you can enjoy all synced lyrics, as well as their translations, both online and offline. To access your favorite lyrics offline, you must simply have opened them at least once while being connected to the internet. This automatically makes them available for your offline enjoyment and the lyrics will be labeled as Saved Offline.
Karaoke Mode – In a bid to get a slice of the lucrative karaoke market, Musixmatch is getting into the hardware game. While not all of us are the best singers out there, there is no shame in belting out your favorite jams in the privacy of your own home. So, if you already have a bunch of MP3s loaded up on your device's Music folder, tap the menu icon when playing a song in Musixmatch, then tap Sing. Musixmatch will then strip the vocals of the file and let you sing along. This works best with headphones plugged in, and if you really wish to enhance your experience even further, there is a Musixmatch Mic that you can invest in as well.
Floating Lyrics Window – You don't have to stay in a music player all the time to check the lyrics, the Floating Lyrics feature enables you to view them on any screen, as well as to resize the lyrics window. With a quick tap, you can even turn it into a screen bubble that can be enlarged at any time. When you install the app and open it for the first time, make sure you 'permit drawing over other apps. Only this will enable Floating Lyrics to appear on your screen while you play music.
Read Also Lucky Patcher
Latest Version MusixMatch APK File Information
| | |
| --- | --- |
| App Name | MusixMatch APK |
| File Size | 34.2 MB |
| Latest Version | v7.8.1 |
| Operating System | Android 5.0 & Above |
| Developer | MusixMatch |
| Last Updated | May 2021 |
Download MusixMatch APK | MusixMatch App Download
Finding lyrics of a song on the internet is not a tough task since there are many websites available for it. MusixMatch turns out to be the winner when it comes to the lyrics of music. We have shared the latest version MusixMatch APK on this page so you can enjoy all of the latest released features of this app. Keep visiting this page to know about the latest updates related to the MusixMatch app and to download the latest version of it. Also, MusixMatch has partnered with Apple Music and Spotify to provide their services on both of these platforms. You should definitely do MusixMatch free download APK from this page if you are looking for song lyrics.
MusixMatch APK Installation Steps:
The first step will be to enable the "Unknown Sources" setting from the Android Settings menu.
Open Android Settings and navigate to Security Settings.
Scroll down and find Device Administration settings.
You will find an option named "Unknown Sources".  If the option is disabled, just enable it.
Now, head back to the Downloads folder and click on the MusixMatch APK file.
Tap on Install and wait for the installation to finish.
Once it is done, open the app and you will be able to use it without any issues.
MusixMatch Latest Version APK Screenshots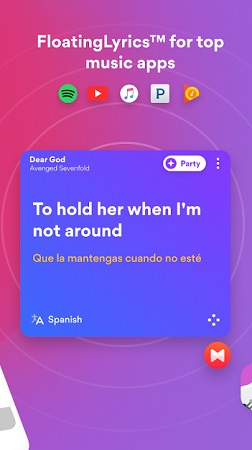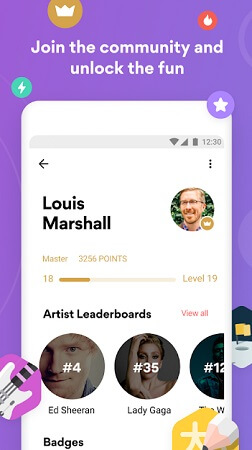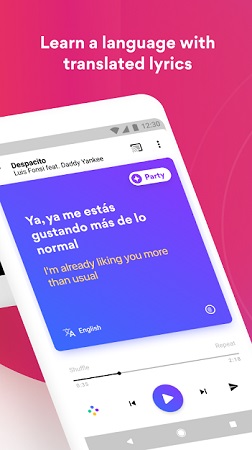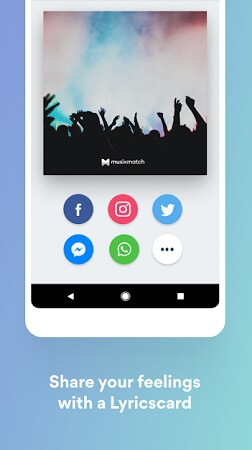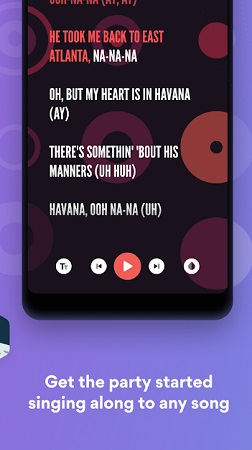 Final Words
Launched back in 2010, Musixmatch has rapidly grown to become the best lyrics finder service for any platform. Focused primarily on lyrics finding, the app offers a plethora of other features, including identifying the music playing around you, creating lyrics-cards to easily share your feelings with your friends, a powerful in-built music player, and much more. The lyrics database of Musixmatch is linked with azlyrics, which is the best source for finding lyrics using a web browser. This makes this app arguably the best lyrics app for Android available in the market right now.
The user can search for the lyrics from the huge database provided. It can also be synced for lyrics with music platforms like Youtube, Spotify, Pandora, and more. The feature that sets this APK apart from other similar apps is that it can translate the song lyrics for the user on the go. This feature lets people from different regions of the world understand and learn the songs in their local languages. On the whole, there is no particular need to say how wonderful this app is. Its popularity speaks for itself.
---