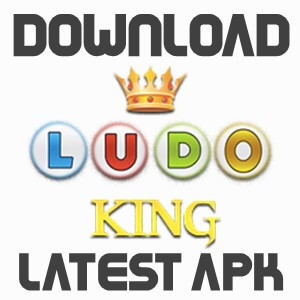 Ludo King APK is based on the game of Pachisi which was played in ancient times in India. Along with snakes and ladders, Ludo was very popular as a board game played outdoors as a mode of recreation. You can quite literally recall your childhood with this nostalgic game. It is a cross-platform game that supports desktop, android, and iOS platforms at the same time in online multiplayer mode. Created by Vikash Jaiswal, CEO of Navi Mumbai-based Gametion Technologies, in 2016, the game hit the top spot on Play Store and App Store less than a year after its launch with nearly 50 million downloads. 75% of the users are from India, while the remaining 25% is made up of players from other countries such as Bangladesh, Indonesia, Pakistan, West Asia, USA, UK, Germany, and France.
Ludo game traces its lineage back to 6th century India. The game has stayed popular throughout the ages, varying only a little in its game structure. This persevering game is now available for you to play in an all-new modernized format, that is, as a video game application. The game is played between 2 to 4 to 6 players and you have the option of playing the game against the computer, against your friends, or even against people from around the world. The objective of the game is pretty straight forward- each player gets 4 tokens, these tokens must make a full turn of the board and then make it to the finish line. Whoever gets all four tokens to the end first is the winner.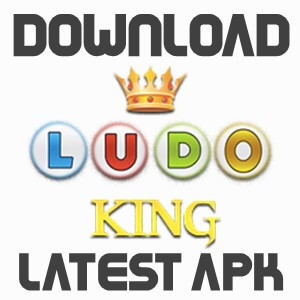 However, each move can only be made based on the number decided by casting a six-sided die, and each token can only move out of their home by casting a six. Additionally, the competition factor of the games is upped by the fact that while moving if another player's token lands on the same square as your token, then your token will automatically be sent back home and you'll need to roll a six again. This game was once played by kings and now it can be enjoyed by you and your family and friends. While the gameplay might seem simple at first, the game is immensely enjoyable for everyone involved.
Ludo King For Android Features
Two Games In One App – Snakes & Ladders (S&L) is another in-app game offered by Ludo King in case if you are bored with traditional Ludo. The game works on the same principle and rules as the traditional S&L board game where you need to take your token from 1 to 100. The board is populated with ladders and snakes where whenever you land on the tail of a ladder, you end up scaling up towards the higher number via a shortcut. In return, whenever you land on the mouth of a snake, you scale down the body of the snake and land on a lower-numbered square.
New 6 Player Game Mode – Ludo is no longer just a four-player game, thanks to Ludo King. The very popular Ludo King has added two new modes to the mobile and desktop versions – Quick Ludo and Five to Six Player Ludo. According to Gametion Technologies, the company behind Ludo King, these two were the most sought-after features on the app as users wanted more ways to connect and play with more friends online. The five to six player mode allows up to six players to play at one time, instead of the traditional four. For so long, the six-player mode on Ludo King was available on offline multiplayer only. The new mode allows online multiplayer to play on this mode as well. Voice chat is also available in this mode.
No More Ads – Ads are one of the most annoying things that are available on every free version of each application. Because of this, one gets lots of irrelevant ads which makes one feel irritated and breaks the flow of the game, making it unlikely for one to play on or continue any further. To get rid out of this, Ludo King APK came into effect. It is fully modified and hacked, and all of the advertisement codes have been removed from the source file. You need not worry about even a single ad while playing the APK version of the game, which is a huge relief.
Unlocked Live Themes – One of the most attractive features of Ludo King has always remained its varied and lively themes. The themes are to be unlocked by playing missions and are not given through direct access. Players have to start playing missions and respective themes will unlock after crossing the given number of missions for each theme. The next missions will be played on themes unlocked by the previous missions. The themes will be played in the Online Multiplayer Mode only. However, with Ludo King APK, you unlock direct access to over 10 themes. This just levels up the user experience to a great extent. For example, the 'Nature' theme has a Ludo board in the form of pavement blocks embedded in a natural setting of grass vegetation and a natural green world with sounds of nature. Similarly, other themes like Egypt, Disco, Pinball, and Cake & Candy set up a specific ambiance while you play the game.
Voice Chat – Ludo King being an online multiplayer game connects players across boundaries. After playing several matches, no surprise the players build a rapport with their game partners that further develops into friendships. Most players regularly play with their acquired friends and often chat with text messages. Family members and friends also enjoy chatting over text while playing the game. Ludo King, being a game built with a real person-to-person interaction in mind, allows players to establish a connection with their game partners. To date, it was text messaging, and in the latest update, Ludo King has rolled out the Voice Chat feature for all players.
Latest Version Ludo King APK File Information
| | |
| --- | --- |
| App Name | Ludo King APK |
| File Size | 62.4 MB |
| Latest Version | v7.5.0.238 |
| Operating System | Android 5.0 and above |
| Developer | Ludo King |
| Last Updated | November 25, 2022 |
Also Read Smule APK
Download Ludo King APK | Ludo King App Download
Ludo King is one of the best board games for Android available right now. If you have not played this game yet, then you should definitely download it from this page. We have shared the latest version Ludo King APK so even if you are looking for a Ludo King update, you can download this APK file. Remember that APK files require manual installation and if you have not installed an APK file before then you can follow the Ludo King installation steps. We will keep updating the Ludo King download link as soon as a new version is released, so keep visiting this page to know about it.
Ludo King APK Installation Steps:
The first step will be to enable the "Unknown Sources" setting from the Android Settings menu.
Open Android Settings and navigate to Security Settings.
Scroll down and find Device Administration settings.
You will find an option named "Unknown Sources".  If the option is disabled, just enable it.
Now, head back to the Downloads folder and click on the Ludo King APK file.
Tap on Install and wait for the installation to finish.
Once it is done, open the app and you will be able to use it without any issues.
Ludo King Unlimited Coins APK Screenshots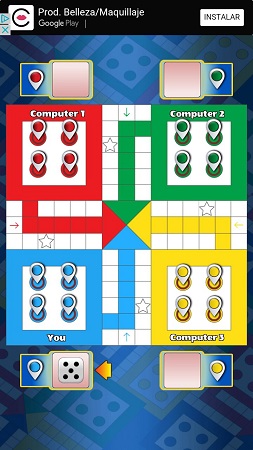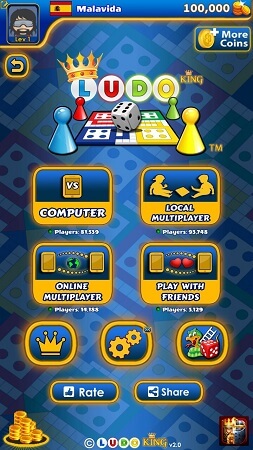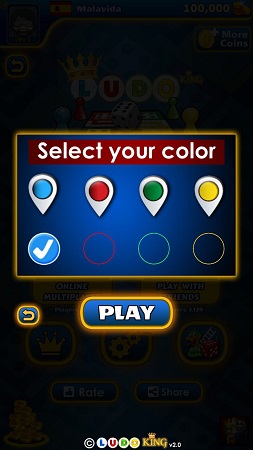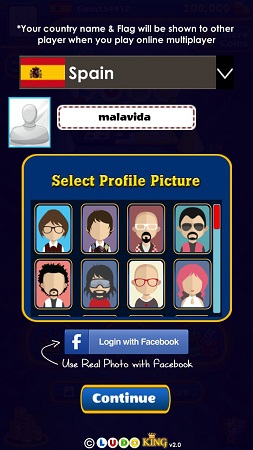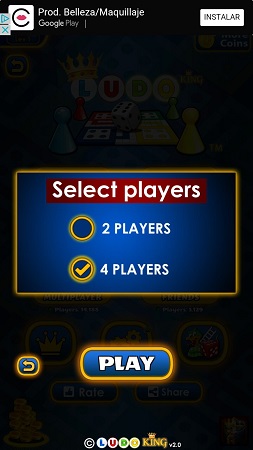 read Teen Patti Gold APK
Final Words of Ludo King APK
If you've always been a fan of board games, Ludo King will be a delightful experience. With a clean interface and plenty of features, the game doesn't disappoint. Moreover, it allows you to connect with people from around the world. You can play, chat, and engage with a wide user base on two different games within a single app. Ludo King follows the traditional rules and the old-school look of the Ludo game. Just like the kings and queens of India's golden age, your fate depends on the role of the Ludo's dice and your strategy of moving the tokens effectively.
For Indian players, ludo is familiar, nostalgic, and can quickly become highly competitive. Cherish the good old days, a time when board games used to be part of a daily ritual. With Ludo King apk, the iconic game makes a well-deserving comeback. Just roll the dice, make the move, and you can earn plenty of rewards while feeling the rush of defeating your friends. The app organizes a 'League' every few days. It gives you a chance to earn coins, gems, and several other rewards. Whether you're waiting for an appointment or taking a break from work, downloading the Ludo King APK is one of the easiest ways to fend off boredom.
---