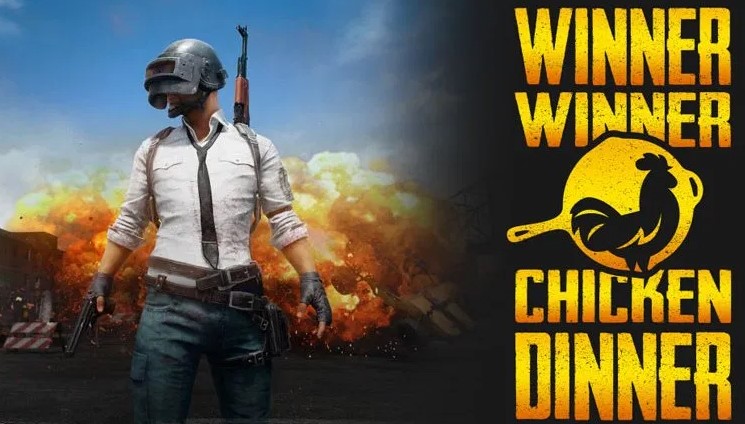 BGMI Tips and Tricks: Gaming is something which I think we all like very much. And it's much popular among all the so called activities around the world. People once used to play games on televisions and as the time continue and technology grows so faster now people can access video games on various consoles, pc and even mobile phones also.
Since launching on mobile devices earlier, Battlegrounds Mobile India Mobile has caused a huge sensation with more than 100 million of downloads from the Play Store. However, while fun, Battlegrounds Mobile India Mobile is by no means an easy game. There are many players and if you are relatively new and wanting to kick-start as a beginner to Battlegrounds Mobile India Mobile or Battle-royal games in general, we have some great tips and tricks for Battlegrounds Mobile India to help you get the chicken dinner.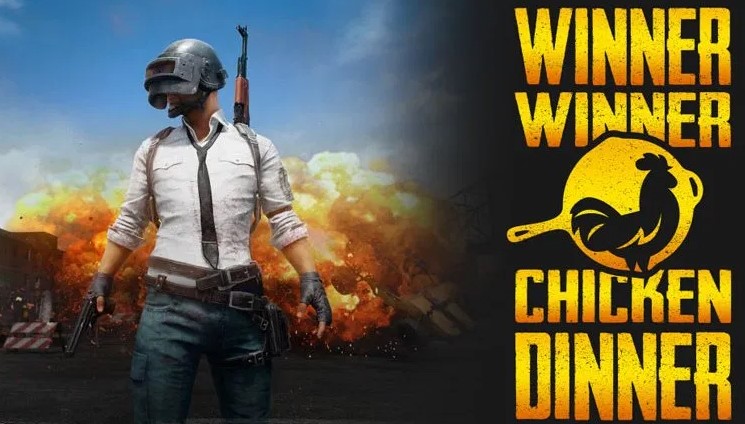 Here are some Battlegrounds Mobile India mobile tricks that will help you to get that classic chicken dinner. The popularity of Player Unknown's Battleground Mobile is not difficult to decode. The competitive nature of the game, the console-level graphics, and the ability to play with friends instantly, no matter which part of the world they are in, make it one of the hottest mobile video games in the world Market right now. If you enjoy playing the game in your spare time, follow these Battlegrounds Mobile India tips and tricks that will help you get this chicken dinner in classic mode.
1. Choose Between Third Person View or First Person View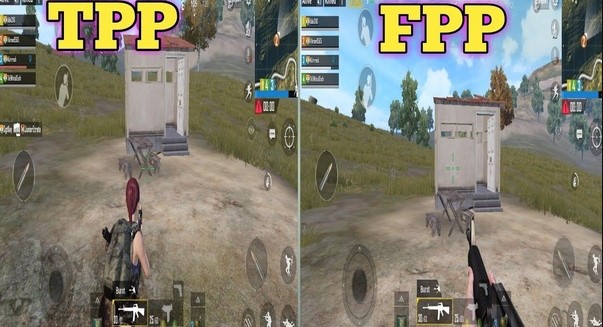 Battlegrounds Mobile India mobile have given you two perspectives to play the game. Whether you can play in the third person perspective (TTP) or the first person perspective. So before starting the game just head over the GAME MODE button just after START button and choose between FPP and TPP
2. Adjust Graphics Quality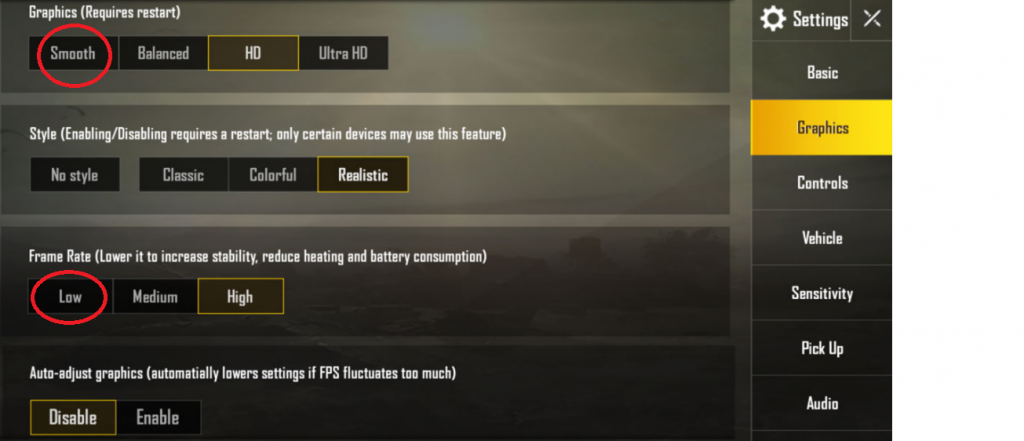 Adjust the graphics quality of the game depending over your phones ability. Although it will always get done by the Battlegrounds Mobile India mobile automatically. But if you seem to find out any lagging or some frame drop then you can simply set your graphics to a lower setting. It may cause you a smoother gameplay experience.
3. Using Gyroscope Could be a Good Move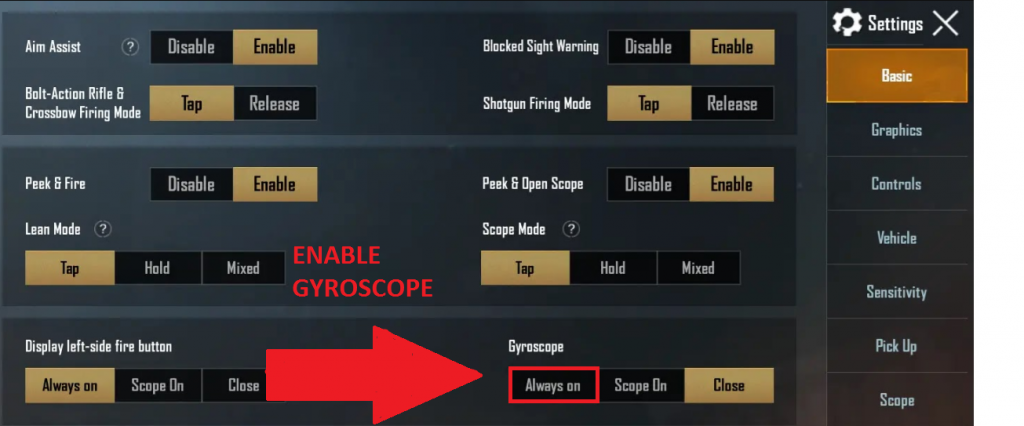 Battlegrounds Mobile India mobile gives you the opportunity to use your phone's gyroscope to aim. This will be amazingly helpful when you're aiming down sights or you're scoping in since you'll be able to aim over your enemies instead of touching or dragging the screen of your device. To activate gyroscope simply head towards the SETTINGS
4. Make a Use of the Left Side Fire Button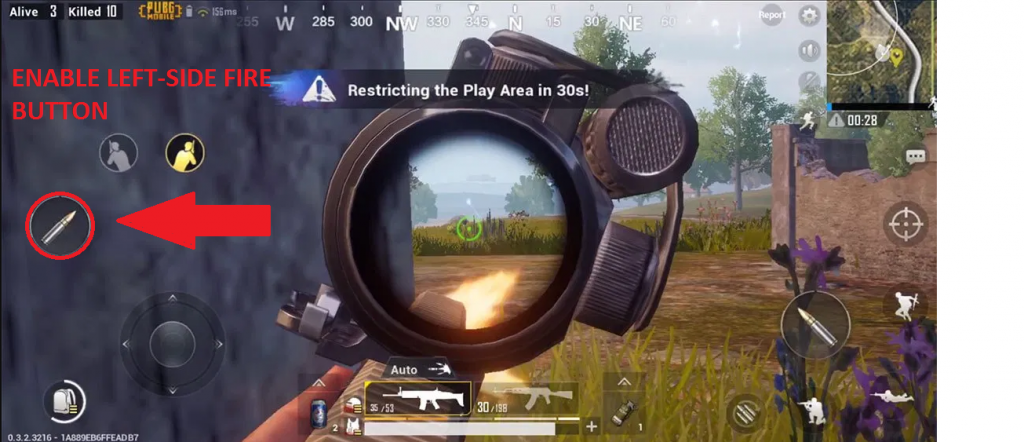 Activate the 'left side fire button' so that you'll be able to aim over your object with the right hand and shoot with the left hand. And believe me this feels really easy and handy to me. You can also use the right side fire button but then you have to shoot and aim with the same hand, which I think will be a bit of difficult task.
5. Enable Auto-Adjust Graphics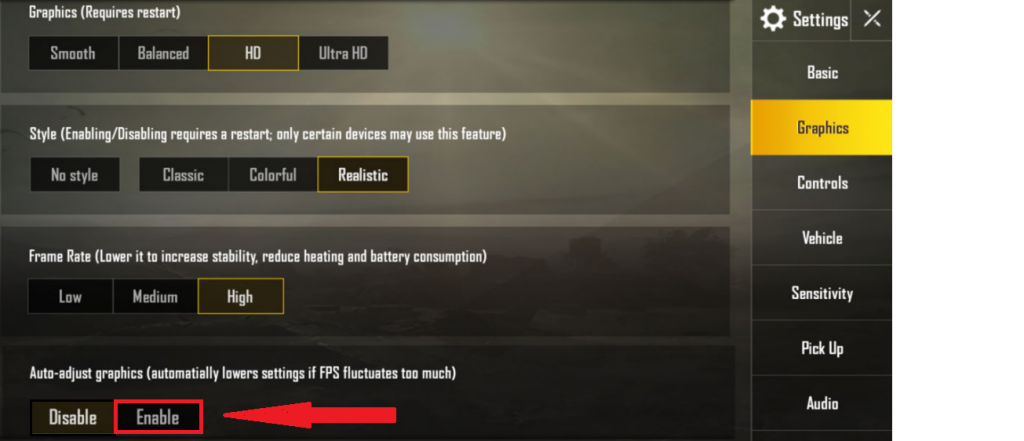 You can also activate the auto-adjust graphics to make out a consistent frame rate. This basically means that you're allowing Battlegrounds Mobile India mobile to fix the graphics quality automatically whenever your device will start over heating or if your device's battery gets low. So that you can get a buttery gameplay.
6. Jumping At the Right Time Could Be the Key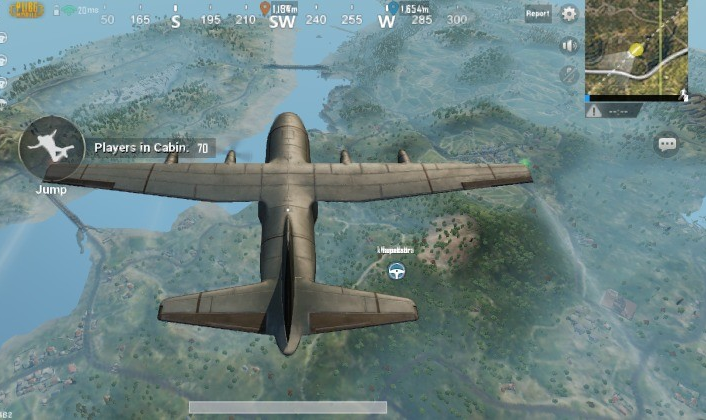 Jumping out of a plane over a good area of the battlefield determines how the game could play out in a certain way. It is therefore very important to select the place where you land. This will help you gather a fair amount of supplies before entering combat. It will also help you move away from the places where you will enter combat as soon as you land, such as Pochinki on the Erangel
7. Parachute at the Highest Possible Speeds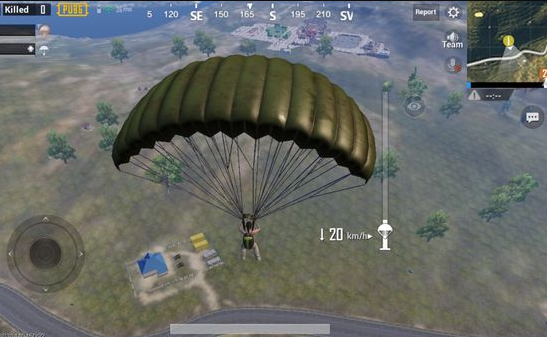 Jumping out of a plane over a good area of the battlefield determines how the game could play out in a certain way. After making the jump, you must act quickly and hit the ground before any other player can do it. As they would then get a gun and start shooting you to ensure an early kill. The highest speed you can jump at is limited to 234 km/h, which can be achieved by looking directly at the ground and sliding sideways if you have to.
8. Never Stop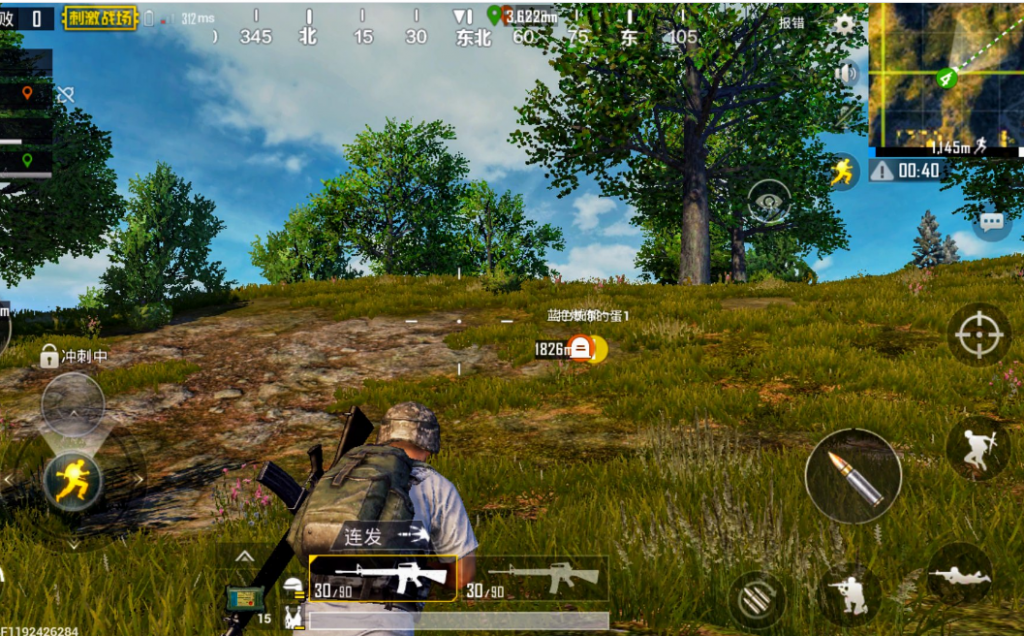 Battlegrounds Mobile India Mobile is a fast paced game and one thing you should always keep in mind is that you should never stay in one place, but rather keep jostling. Because, if you keep standing in one place, whether it is to target or loot a crate, it will be extremely easy for an opponent to shoot you down, taking his sweet time to target a headshot. The more you keep moving, the harder it is for an enemy to aim and shoot you. I also recommend that you keep changing the direction you are moving in, so that the enemy can guess where you are going. If you keep going straight, the enemy can just anticipate your position and start shooting. If you have been spotted and there is no blanket near you, start running at random to a safe place and also add a few jumps to your movements so that no ball can hit you.
9. Closing Doors Can Give You an Advantage.
After you've properly gathered all the supplies, weapons, and ammunition you need, you can simply camp inside a building and sit quietly there until the players come and loot it. Do not stop at one player close the door again and repeat.
After seeing that the door is closed, the other players enter as if they own the place, then you can surprise them and go kill. Do not stop at one player close the door again and repeat. Now that you know that players can hide behind closed doors to take advantage of unsuspecting players. You can be smart and just throw a grenade or Molotov at the door. This will open the door with a lot of damage done to the player who was hiding inside. Do not hesitate to do it in each house because you will never be short of grenades or Molotov because each house has at least one lying around here or there.
10. Cleverly Loot the Killing Boxes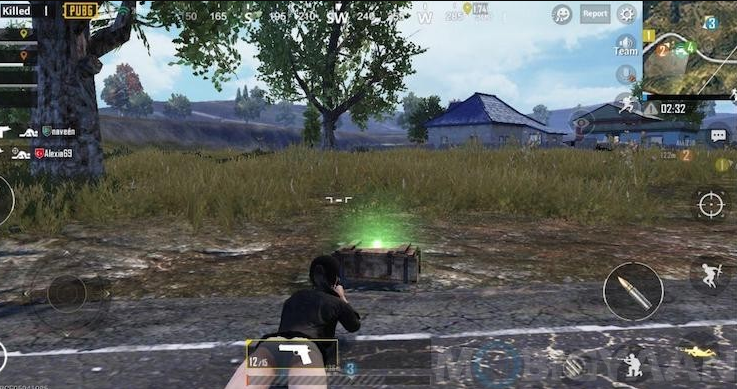 After killing an opponent, you may want to run to the destruction crate and loot any useful items they had. However, I would say that this desire continues and waits a bit in a decent hiding place. This should allow you to see if there are other players out there who are claiming your reward or wandering around to find you. Once you are sure there is no one left, you can rush to the cashier and collect your loot.
11. Don't Just Become a Turtle, Hide in the Bushes
There are times when the last circle is completely open and a building is not an option to hide. So, sitting in a car makes you the duck sitting. Bushes are the best places to hide. Long bushes inside Battlegrounds Mobile India Mobile hide the character perfectly.
You can easily lie in a bush with players who overtake you without even noticing that you are there. After that, you can just shoot them, wondering where they are taken from. Keep in mind that the bushes are not the perfect hiding place and only use them as a last resort, as people more than 200 meters away cannot see a bush due to the game algorithm and will reach you easily.
12. Maintaining Circle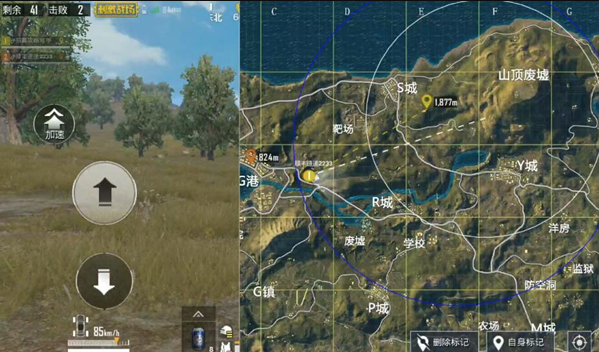 The circle plays really important role in the BGMI mobile. Its not that every time the circle will go In your favor. So better you look after the zone which will continue to shrink every time after a limited time span.
Here another factor breaks into the resultant of your gameplay is that whether you are a camper or a chaser? A chaser always tend to go with the zone in, that means they will get a chance to face the most number of enemies  but it's a fact that most of the time they carries out the risk of getting beaten by the zone.
But if you are a camper then it can be a convenient way to get your chicken dinner. So campers always choose the center of the zone probably the safest place in the zone which may differ every time. So the player who is going to camp must reach out the place where they can hide themselves completely and listen to the every possible sound made by the enemies and take a fool blast over them.
13. Make Wise Move In The Top 10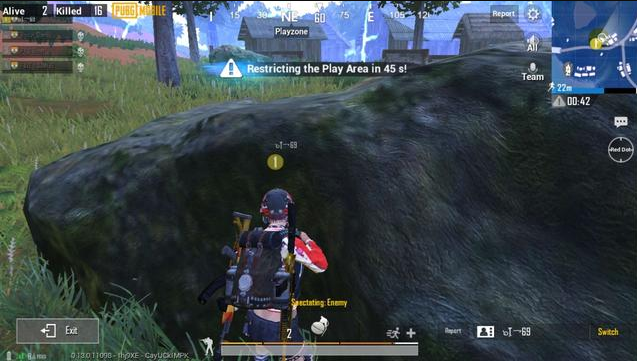 The final zone is a crucial part of the game. When you're in the top 10, must remember every player remains in the last zone want to get that testy chicken dinner. But your different strategy and thinking would give you the crown so make a really convenient strategy first. I will suggest sneaking in the final countdown. Try to listen out every little sound of your enemy like the footsteps or the firing sound, so that you'll be able to understand their position. Make sure that you have enough first aids and ammunitions left. If you have some grenades or moltovs, then try throw out them and if that hits someone then you will get a proper reaction and you'll be able to knock him out. And in the final moment don't be panicked, be sure about your opponent's position and make the final blow over him and get the classic chicken dinner
14. Using an Emulator
Playing BGMI Mobile on a small screen has many drawbacks, one of which is that commands take up more than half of the screen. These problems do not exist when playing the game on an emulator on a PC. Some of you might point out that this is cheating, but community doesn't think so. It has an official PC emulator, which you can download for free, called Tencent  Gaming Buddy.
Battlegrounds Mobile India Mobile will mainly associate you with players playing the game on the emulator rather than on their phones. Playing on the emulator also gives you the advantage of having a mouse and keyboard to control the character. But for fair play, PUBG Mobile will primarily bring you closer to players playing the game on the emulator rather than their phones.
Conclusion
So guys here I have given some really cool tips and tricks for Battlegrounds Mobile India about the fact that how you can get your chicken dinner in PUBG mobile. Use them and enjoy your chicken dinner and comment down below that how you felt about it. And also let me know about your further queries.
---