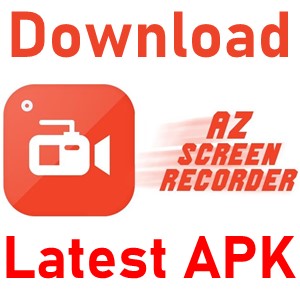 AZ Screen Recorder APK: Since the launch of Android, we have progressed a very long way. Features and services that would need rooting of our devices are now easily available by the virtue of Stock Android. Although the built-in recording is yet not introduced by Android, this feature is the need of the hour. For this, many third-party applications have arrived to meet our demands. But not all of them are great and efficient. So today we talk about a prominent app that fulfills your expectations.
The AZ Screen Recorder is a free application that servers its users to easily record everything going on their Google Android device without taking the pain to have their respective device rooted. It is an interesting app that comes in handy to people. Not just the quantity, but this app efficiently records high-quality screen recording videos of 1080p, 12Mbps, 60FPS, which are smooth as well as clear to watch. The interface of the application is hassle-free yet elegant. Moreover, it does not put any sort of watermarks, prevents frame loss, and enables limitless recordings.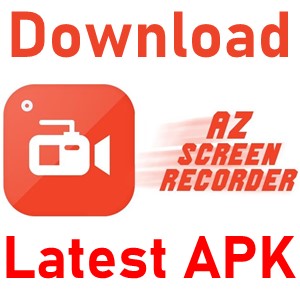 The AZ Screen Recorder app does not mandate root in order to use it, which makes it easy for users who do not wish to root their devices. It can be used to record games and different applications too. This application has a number of interesting features such as live stream screen, screen video recorder, screen capture, video editor, etc. Also, the premium version of this app consists of more amazing features including trimming and cutting, GIF conversions, draw on the screen, and magic button functionality. The AZ Screen Recorder app has a size of 15-16 MB. However, to run this application on your device, you will require Android 5.0 (Lollipop) or higher.
AZ Screen Recorder Features
Screen Recording – This is the most basic feature of this app. The AZ Screen Recorder provides smooth and fluid screen recordings. If you have this app, you can record anything like video tutorials, popular mobile games, live shows, video calls and meetings, and much more. For Android 10 users, this screen recorder app will support the recording of internal audio as well. Once you start the recording, you will see four different icons in the centre of its interface. They are respectively: to start the recording, for adjusting app settings, to access the folder that has your recorded videos, and to exit the app. You can also choose the video quality from its settings.
Video Editor – This is a really cool feature offered by the AZ Screen Recorder app. After you are done recording the screen of your android device, you can easily edit those videos with the video functions provided. These functions include:
Adding subtitles to the video
Editing the audio in the recording
Crop & Rotate video
Merging videos, that is, combining multiple videos into one
Converting the video to GIF
Removing the middle part of the video
Adding background music to the video
Trimming & Compressing the video
Extracting images from the video
Livestream – With this feature of the amazing AZ Screen Recorder app, you can stream your recorded videos to various platforms like Youtube, Facebook, Twitch, and others. It has a screen broadcast function that enables you to do it. This app also provides the use of Facecam while live streaming. You can stream games like several game channels do on social medial platforms to show off your gaming skills, or you can stream any TV shows, movies, as well as sporting events. It provides a variety of broadcast resolution settings, so you can stream with the desired quality you want.
Screenshots and Image Editing – By now, you would have understood that the AZ Screen Recorder is not just a screen recorder app. Here's another feature to add to that conclusion. This app can also take screenshots and allows image editing. You can easily take a screenshot with just one click, and apply in-app image editing tools, and then share your ready screenshots. The image editing offers you to crop, stitch, blur the images, and also add text as well as draw on them.
Start and Stop Recording – You can stop the recording midway too in this app. You can also shake the device to stop the recording. The app counts down 3 seconds before it starts recording, but if you wish, you can disable it completely from the settings, or change the timing if you need more or less time. Once the AZ Screen Recorder starts recording, a red dot in the lower right corner of the screen will start blinking. Tap that dot to pause, and if you hold it down and drag it on the screen, you will see that you can move the red dot anywhere you like on the screen according to your convenience.
Latest Version AZ Screen Recorder APK File Information
| | |
| --- | --- |
| App Name | AZ Screen Recorder |
| File Size | 19.8 MB |
| Latest Version | v5.8.8 |
| Operating System | Android 5.0 and Above |
| Developer | AZ Screen Recorder |
| Last Updated | March 2021 |
Download AZ Screen Recorder APK 5.9.15| AZ Screen Recorder Full
AZ Screen Recorder is currently one of the best screen recorder apps for Android and if you are looking for ways to live-stream your gameplays on the internet, then you can consider using AZ Screen Recorder. Since it comes with in-app purchases, you will need real money to get premium features. If you are among those who don't like spending money on apps and games, then you can download AZ Screen Recorder full version APK file from this page. The process to install this app is just like every other APK file and if you are new to them then you can follow the AZ Screen Recorder APK installation steps mentioned below to install this app without any assistance.
APK Installation Steps:
The first step will be to enable the "Unknown Sources" setting from the Android Settings menu.
Open Android Settings and navigate to Security Settings.
Scroll down and find Device Administration settings.
You will find an option named "Unknown Sources".  If the option is disabled, just enable it.
Now, head back to the Downloads folder and click on the AZ Screen Recorder APK file.
Tap on Install and wait for the installation to finish.
Once it is done, open the app and you will be able to use it without any issues.
AZ Screen Recorder App Screenshots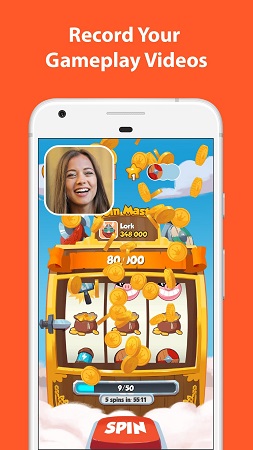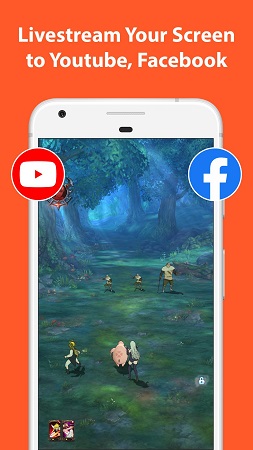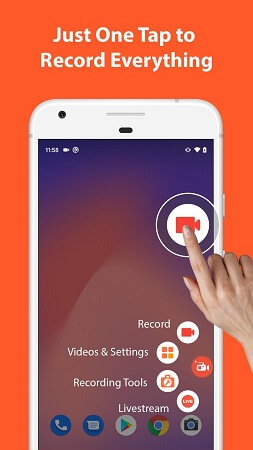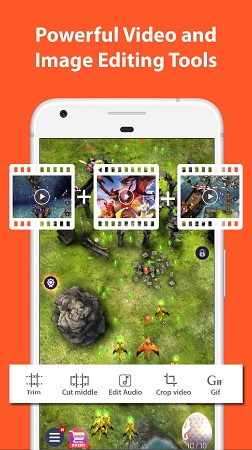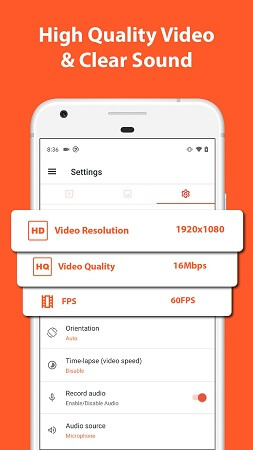 Final Words
The AZ Screen Recorder does require a few permissions to work on your device. You may allow it with these permissions if you want to start using it. It totally depends on your Android version though. Once the necessary permissions are granted, it runs smoothly without any issue. The free version of this application provides all the above-mentioned features. It is just that the premium version also adds some cool features. So it's up to you and your needs. Ads may be displayed on the screen sometimes, but it does not disturb the recordings.
The options and settings are very flexible so you can share the recorded videos, thrash them, or completely dismiss them. The AZ Screen Recorder app is a great choice for Android to record videos. It is so easy to use and has a simple interface, and yet well managed and multitasked. It has so many cool features and although it does not provide the same level of recording as capture hardware does, it is the best alternative out there. By downloading this APK file, I am sure you won't regret it.
---